This Red Lentil & Yellow Split Pea Tomato Curry is warming, packed with flavour and great for freezing. It's so easy to make, it might as well be your first effort towards Indian cuisine! Only 15 minutes prep and then you just let it simmer away. Serve with garlic and coriander naan bread for dunking.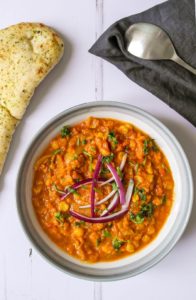 If you've had the chance to take a look at my About page, then you'll know that curries are one of my favourite foods.
So today I wanted to share this easy Red Lentil & Yellow Split Pea Tomato Curry which is one of my go-to ways to cook red lentils (together with my Spinach & Coconut Lentil Dhal) as well as a great recipe to try if you're an Indian cuisine newbie. This is in fact one of the first recipes I eventually nailed after a few weeks of experimentation with Indian spices years ago.
If you're new to making curries, do not worry. There are no spices to roast, grind, ingredients to marinate or pastes to prepare. You simply have one spice blend that you can pre-mix before you even turn on the hob. That's it. You just add it to the rest of the ingredients and the magic is done.
So let me tell you a bit more about how to make this delicious Red Lentil & Yellow Split Pea Tomato Curry…
First of all, you cook the onion until soft, then you tip in the garlic and ginger and cook for together for a couple of minutes, stirring often as the garlic tends to catch quite easily.
Next you add the spices – garam masala, turmeric and cinnamon – you stir well so that the onions are covered, then you add the chopped tomatoes.
This is how you make your curried tomato base. All you have to do next is tip in the red lentils and yellow split peas, cover with the water or vegetable stock and let it simmer gently for about 45 minutes to an hour, until the split peas are cooked through and the sauce has reduced.
Keep in mind that, unlike the red lentils that will go very soft, the yellow split peas will still have a bit of a bite.
At this point you can enjoy a bowlful right away (I find that the perfect combination is with garlic and coriander naan bread for dunking and a dash of sriracha because I'm addicted) or freeze in airtight containers for up to 3 months. It makes an excellent meal that you can take out of the freezer and re-heat on a busy day.
Told you it was super easy, didn't I?
RED LENTIL & YELLOW SPLIT PEA TOMATO CURRY
Prep Time: 10 minutes
Cook Time: 1 hour 10 minutes
Yield: 6 servings
DESCRIPTION
The perfect recipe to try if you're new to making curries from scratch. No complicated techniques but tons of flavour!
INGREDIENTS
For the spice mix: 
3 tsp garam masala
1 tsp turmeric
1/2 tsp cinnamon
–
2 tbs olive oil
1 large onion, sliced
1 4cm piece of fresh ginger, grated
3 large cloves of garlic, crushed
1 green chilli, finely chopped (remove the seeds if you want the curry to be milder)
3 400g cans of chopped tomatoes
120g dried red lentils
120g dried yellow split peas
1.5l hot water
Salt to taste
INSTRUCTIONS
1. Prepare your spice blend by mixing garam masala, turmeric and cinnamon in a small bowl and set aside.
2. Heat the oil in a large pot over medium heat and fry the onions until soft and translucent. Then add the garlic and the ginger and cook together for 1 minute, stirring often to stop the garlic from burning.
3. Add the chopped chilli and the spice mix and cook for another minute, continuously stirring, to allow the spices to release their flavours.
4. Add the chopped tomatoes, mix well and bring your curry sauce to a simmer.
5. Add the lentils and split peas, then the water and stir. Simmer for approximately 45 minutes to 1 hour until the red lentils have broken down, the split peas are soft and the sauce has reduced down to a creamy consistency. Please bear in mind that cooking times may vary depending on which brand of lentils and split peas you are using so make sure you taste them before turning off the heat. If required, add more water and continue cooking until the pulses are fully cooked. Season with sea salt and serve hot with rice or naan breads.
NOTES
Suitable for vegans
This recipe freezes extremely well so make some extra portions and freeze in airtight containers for up to 3 months.
If you do not have yellow split peas, you can simply replace them with the same amount of red lentils so, for 6 servings, 240g of red lentils in total.
As well as being a great curry, this recipe makes a wonderful, warming soup. Just follow the recipe right until the lentils and split peas are cooked, then add enough vegetable stock to give it a soup-like consistency.